Are Shutters Expensive?
Shutters are often thought of as a luxury product, a purchase made with the heart and eyes rather than the head and the wallet in mind! But the simple fact is while shutters' initial cost comes in similarly to a top end curtain or blind per square metre, the value is far more substantial and long lasting.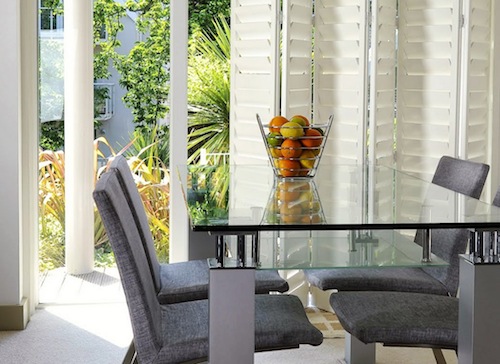 Shutters are a life-long purchase. Backed by our Just Shutters lifetime guarantee, our beautiful bespoke shutters will be with you for as long as you live in your home. They will not warp, bleach or fade; they are not subject to the same mould, moth or other damage that curtains, fabrics or untreated wooden blinds are. They do not require the maintenance or washing that fabrics do and offer a myriad of other benefits, including:-
– Flexible light control
– Privacy and security
– Noise reduction
– 95 – 98% blackout when fully closed
– Huge range of colours, finishes and styles to suit any home
– Easy to maintain
– Fantastic for shaped, arched and angled windows
At Just Shutters we have a very transparent pricing structure. You can even use our online calculator to gauge the cost of your shutters, or request a personal design visit where our shutter specialist will visit your home and show you samples at your window before preparing you a bespoke design quote. This appointment is completely free and will give you the best possible price direct from us and tailored to your requirements.
All our shutters and of course our prices, reflect our fully designed, installed and guaranteed product, we don't quote a small amount for the shutters and add the 'extras' on to make you feel like you are getting a cheap product, we have a high quality product and service that provides great value.
Find out more about the price of interior plantation shutters: See our shutter calculator