Fabulous Photoshoot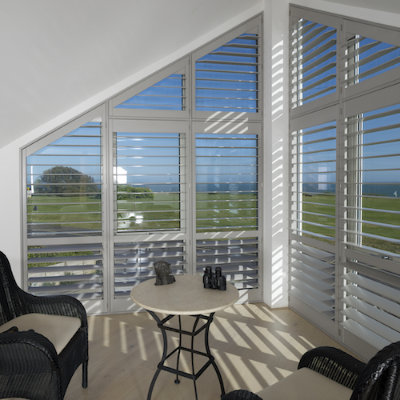 The May blossoms were in full bloom, the sun warming us just enough to allow us to remember the summer was close by, and it was time for us to capture some beautiful images of our shutters looking simply stunning in the lovely spring light.
We have been working on a very exciting update at Just Shutters, a big change is coming online and to reflect this we have some wonderfully creative ideas flowing, which we cannot wait to share, and our first step was to capture some stunning shots of one of our stand-out installations. You may have seen these striking shutters before, the floor to ceiling triangular windows of Mr and Mrs Holly in a sumptuous Sea Mist – perfectly fitting with the view from them overlooks the glorious South Coast.
Stuart Keasley of Black Flack TV, travelled down from Shepperton Studios to create some magic for us. Joined by Chris Rocker, Founder of Just Shutters, and Charlotte Fantelli, Marketing Manager, the team spent the morning in the delightful home of the Holly's being thoroughly taken care of and the sun shined upon the day allowing us some gorgeous images. We can not wait to share with you our exciting new project until then, here are some of the lovely images from the day.